On Occasion Of 48th Annual General Meeting held in Warananagar Dated 25/09/2013
RESPECTED MEMBERS,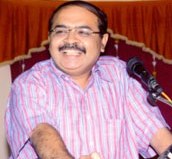 I extend a warm welcome to all of you on this momentous occasion of 48th Annual General Meeting of our Bank.

The audited statement of accounts together with the Auditors Report and the Directors Report for the Financial Year ended 31st March, 2013 has already been circulated to you all. With your kind permission, I take it as read.

Let me now briefly take review of the performance of the Bank during the just concluded financial year.


The Reserve Bank of India initiated many steps like deregularization of interest rates on Savings Bank Accounts, reduction in CRR and increase in REPO rates, etc. This led to availability of adequate funds in banking systems resulting in stiff competition amongst the banks in respect of interest on Deposits as well as Advances. The bank has effectively competed with other banks, particularly co-operative banks and succeeded in maintaining profitability.

It gives me a great feeling of pride to announce that our Bank has successfully mobilized deposits by 12.27 % and deployed Advances with net increase by 13.19 % during the year, which are much above the industry Standards. The Credit Deposit Ratio was around 65.09 % all through the year showing optimum deployment of funds in advances.

Though the average cost of deposits was increasing, bank could achieve the higher gross income at Rs.65.59 crore due to timely and cautious deployment of loans in viable projects and prudent investment decisions coupled with several cost cutting measures initiated by the Bank. It resulted in Net Profit of Rs. 3.02 crore, after payment of Income Tax, inspite of opening 2 new branches and shifting of 1 branch.

With such an excellent performance of our Bank, I am pleased to inform you that the Board of Directors has proposed dividend of 10 % per annum for the year 2012-13.

I am glad to inform that the Gross Non-Performing Assets (NPA) in Loans & Advances were reduced to 0.43 % as on 31st March, 2013 from 0.60 % of the previous year. This is due to sustained monitoring and regular follow up of loan portfolio particularly those showing signs of becoming default by timely action of nursing of such account wherever required and initiating recovery measures. As per the RBI guidelines bank which having below 5 % NPA is rated as strongest bank. And our Net Non-performing Assets (NPA) as on 31st March, 2013 is only 0.43 %. We seek your support for achieving further reduction in Gross Non-Performing Assets, in the current financial year.


Speaking on the Technological advancement, I am happy to inform you that your Bank has been successfully running core-banking solution for the last three years. The Bank has set up 6 Biometric ATM centers, 17 on-site ATM centers and 2 offsite ATM centers for the convenience of customers. The Bank has already introduced the facilities viz. SMS alerts, NEFT & RTGS, Franking, Insurance, Pan Card services and MSEB Billing facilities. Besides this, in the recent past the bank has launched "Rupay ATM the unique Card". Bank has joined the Sarvatra ATM network, through this ATM network now our customers have access to more than 1, 00,000 ATM's all over INDIA.

During the financial year 2012-13,the bank has opened new branch in Ganapati Peth, Sangli .now we have reached to the total of 29 branches.. Besides this one branch were shifted to new and spacious premises from Kale to Kotoli. During the current financial year your Bank has opened its 2 more new branches i.e. 30th & 31st branch at Karve Road, Pune & Panvel, Navi Mumbai. Besides this, the Reserve Bank of India has given approval to your Bank to open 3 more new branches, in Karad, Satara & Malkapur during the year 2013-14.

Regarding in house training, I wish to inform that Late Mr. Tatyasaheb Kore Sahakar Prashikshan Kendra has continued to hold several programs for employees on various subjects ranging from soft skill training to leadership training program, besides imparting training programs on various banking and allied subjects. This has honed the skills of our employees at various levels enabling them to successfully face the future challenges of the Banking Industry and rat-race going on the field of Banking.

I gratefully acknowledge and thank the authorities of the Reserve Bank of India, the Commissioner for Co-operation and the Registrar of Co-operative Societies, Maharashtra State for their continued guidance and co-operation from time to time.

The employees at all levels deserve the credit to the overall progress made by the Bank. It is because of their dedication, hard work; positive and constructive approach towards various issues, the Bank could have reached the present status. I am quite sure their sincerity work ethics, team-spirit and loyalty to Bank will continue to take the Bank to greater heights of prosperity and success.

I acknowledge sincere thanks to Shree Tatyasaheb Kore Warana Sahakari Sakhar Karkhana Limited Warananagar, Shree Warana Sahakari Dudh Utpadak Prakriya Sangh Ltd., Shree Warana Vibhag Sahakari Grahak Mandal Ltd., Warananagar and all Co-Operative and educational institutes of Chairman, Vice Chairman, Directors and Staff in Warana Group who have heartily extended their Warana fraternity support and helped the Bank in its and ever growing progress.

I am quite confident and sure that with the whole hearted support from you, we shall further improve upon the performance of our Bank in the years to come and will continue to achieve higher goals. Your trust and confidence in Bank is the key to its continuous growth and we sincerely acknowledge the same time and again.

Finally, I would like to express my thanks to the honorable members of the Board for being a source of guidance and special thanks to MLA Hon. Vinay Kore (Savkar) and Vandaniya Smt. Shobhatai Kore- the Chairman / Chairperson, Shree Tatyasaheb Kore Warana Sahakari Sakhar Karkhana Limited Warananagar, who is indeed an inspiration to all of us through commitment and dedication towards growth and development to this Bank. To conclude I must admit that we commit ourselves to adapt with the ever-changing scenario in banking field so as to offer still better and efficient banking services to all of you.

Thank you very much. With warm regards.

JAI HIND …… JAI MAHARASHTRA ....JAY SAHAKAR..

On Behalf Of the Board of Directors,
Shri Nipun Vilasrao Kore
Chairman,
Shree Warana Sahakari Bank Ltd., Warananagar